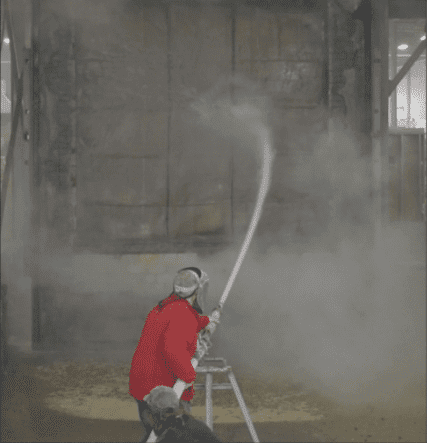 U.S. Smoke & Fire Hose Stream 120™ Fabric Fire Shutter (FFS) is an opening protective in a 1 or 2-hour fire wall for up to 25% opening limit of a fire wall. The fire shutter meets the requirements of UL 10B with hose stream and NFPA 252, IBC 716.5.2 other type of assemblies, which requires the fire shutter to meet the integrity and hose stream test.
The headbox is mounted using threaded rods and unistruts similar to fire protective smoke curtains. For power, 110V to motor side of the headbox. The fabric fire shutter will release when receiving a signal from a local smoke detector on both sides of the shutter. Push to exit buttons can be installed for egress.
If the opening is more then 25% of the fire wall a movable fire wall is required to meet ASTM E119 labeled assembly then the Dual Hose Stream 120 should be specified.
Technical Information:
Product Downloads:
VIEW IMAGES OF THE SMOKE CURTAIN IN ACTION: