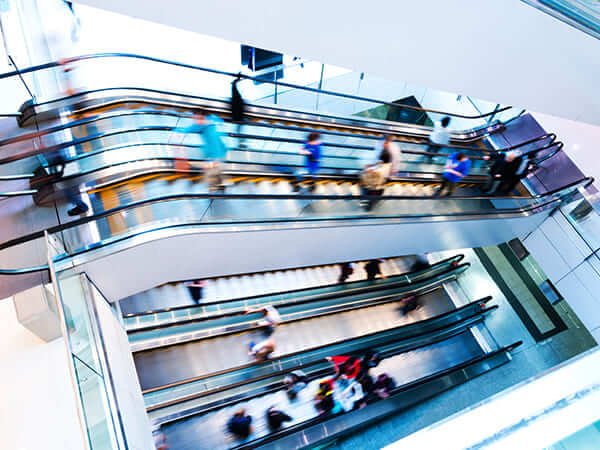 Smoke & Fire Curtain Applications for Escalators & Stairs is a Priority
Prior to Smoke Curtains, escalator protection was provided by cement walls. This increased the overall complexity and cost of the building while at the same time prevented architects from using escalators as interesting architectural elements.
From a design perspective, escalators help create interesting geometric patterns. We all enjoy the ease of them, and also use the panoramic views to orient ourselves to the location.
In large open areas for example, shopping malls, smoke curtains and a smoke extraction system are used in conjunction with the smoke curtains. This combination of curtain technology allows three significant safety features to simultaneously occur:
Smoke is routed away from people and merchandise to the extraction system
The extraction system removes the smoke and toxins from the facility
The smoke curtain provides an effective block for smoke and fire. People have time to leave, and fire personnel are able to easily enter. As noted in the image to the right smoke curtains can deploy one or both sides to form a safe egress path.
In the event that the main power or backup generator fails the smoke curtains will operate independently and deploy as directed by the alarm. Should the alarm system be compromised, the fail-safe design will still deploy the curtains.For more information please download our Escalator Application Note.
View Additional Applications Below: