U.S. Smoke & Fire › Fire Protective Smoke Curtains › SD60 Fixed Fabric Draft Curtain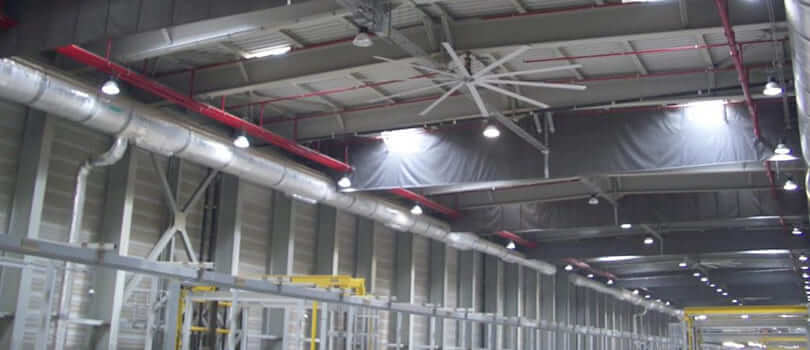 U.S. Smoke & Fire – SD60 Fixed Fabric Draft Curtain – Utilized in warehouses for smoke zoning and separation and for aircraft hangars as part of NFPA 409 compliance. The system can be free hanging or mechanically fastened in place.
No matter what your building is used for, fire protection and disaster preparedness are critical investments to make—but this endeavor goes beyond installing a sprinkler system and a few alarms. As a smoke and fire curtain supplier, we deliver effective solutions like the SD60 fixed fabric draft curtain.
Commonly used in industrial environments with high ceilings like airplane hangars, warehouses, and more, the SD60® 1-hour fixed fabric smoke and draft curtain is tested to UL 10B, 10C, and 10D as a fire-protective smoke curtain. The curtain is composed of a tightly woven glass fiber fire-rated fabric material and is fixed to the roof deck or other ceiling structure to create a tight seal and provide smoke draft control in large open spaces.
U.S. Smoke & Fire SD series smoke curtains are the gold standard of UL listed smoke curtain technology. Our curtains provide a 1-hour smoke partition by using several methods of mounting depending on the unique design of the project:
Fabric can be fastened directly to the top or bottom beam flange,
Beam clamps can be used to hold the fabric in place on the beam flange,
Fabric can be installed directly to roof decking,
Or, a high tensile cable can be used to affix the draft curtain to an end wall
With thorough quality assurance, U.S. Smoke & Fire's fire curtains stand up to the toughest conditions. Once on-site, our installers will examine supports, blocking, inserts, clips, installation tolerances, clearances, and other conditions that impact the performance of a fixed smoke curtain. In addition, we also offer 37-point electrical and mechanical inspections included in our annual preventative maintenance plans.
Read on below for technical specifications and images of the SD60 fixed fabric draft curtain, or contact us now to request more information.
PERFORMANCE:
1-hour smoke and fire curtain (UL 10D)
Fabric area density ≥ 540 g/m² for temperature ≤ 1800°F for a period of 1 hr
The tensile strength of Panama weave fabric is 10% ≥, with 415g/m² glass cloth
STANDARDS:
Tested to UL 10D (1 hour)
Tested to UL 10B - 20 mins with no hose
\Tested to UL 10C - 20 mins with no hose
ASTM E84 Test Report
ASTM 136 Test Report
California Department of Forestry and Fire
Protection and Office of the State Fire Marshal Listing
OSHPD Anchorage Pre-Approval No. OPA-2855-10
Contact Us Now for Draft Curtains, Fire Curtains, & Other Fire Protection Solutions
Nothing is more important than the safety of your team, customers, and visitors. Quality fire curtains and smoke containment systems from the experts at U.S. Smoke & Fire help you comply with safety regulations and protect your building in the event of a fire.
Smoke curtains and draft curtains bring the following possibilities and benefits:
Reduce sprinkler systems requirements
Meet the strictest NFPA draft curtain requirements in place
Discreet and unobtrusive, they improve design aesthetics by eliminating barriers and fire-rated glass
Help ventilation systems efficiently move smoke out of a building in the event of a fire
For over 20 years, U.S. Smoke & Fire has been a trusted supplier of smoke and fire curtains. Today, we have locations in California, Texas, Florida, Virginia, and Massachusetts as we assist clients all over the country.
Contact us now to discuss flexible solutions for fire protection and smoke migration at your location.
Fabric Test Reports:
10D
NFPA 701
20 minute no hose UL 10B
Product Downloads:
VIEW IMAGES OF THE SMOKE CURTAIN IN ACTION:
View Additional Products Below: