Professional KN95 Protective Masks
---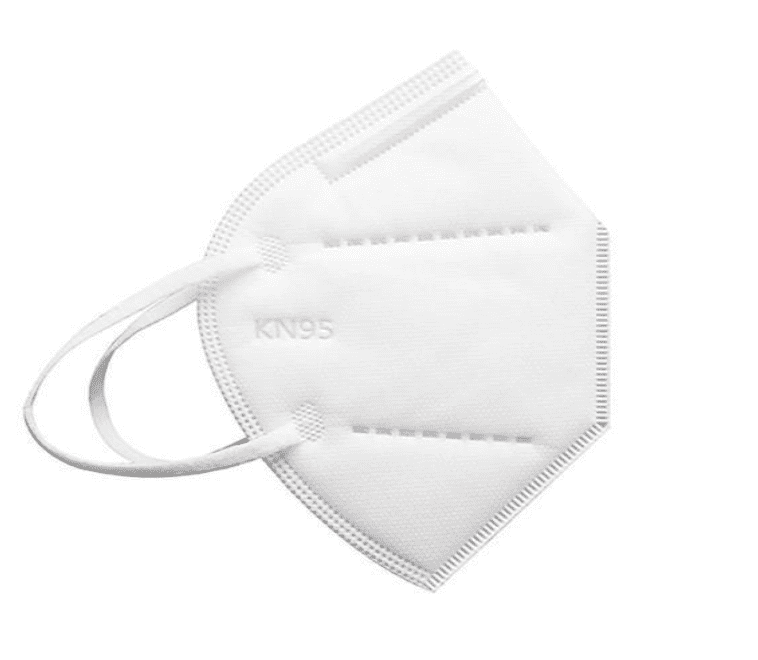 A KN95 mask is a type of respirator with multiple layers that provides 95% filter performance from dust, bacteria, and other harmful substances in the air. It is an excellent mask to help prevent virus infection and influenza. Made of high-quality material, the KN95 is safe, soft, and comfortable. The 95% filtration provides anti-bacterial and anti-dust protection for the wearer. Similar to N95 surgical masks, KN95 masks are designed to fit snugly over the nose and mouth, creating a seal that prevents air from leaking in or out.
$2.25 per unit
1000 count minimum order quantity
100,000 in stock
KN95 protective masks can be used for various purposes, such as:
COVID-19 and other respiratory infections
Wildfire smoke, haze, and air pollution
Allergens, dust, and mold
Occupational hazard
---
5-Layer High-Quality Face Mask
1st layer : Non-woven fabric
2nd layer: filter (Hot air Cotton)
3rd layer: Melt-blown fabric 25gsm
4th layer: Melt-blown fabric 25gsm
5th layer: non-woven fabric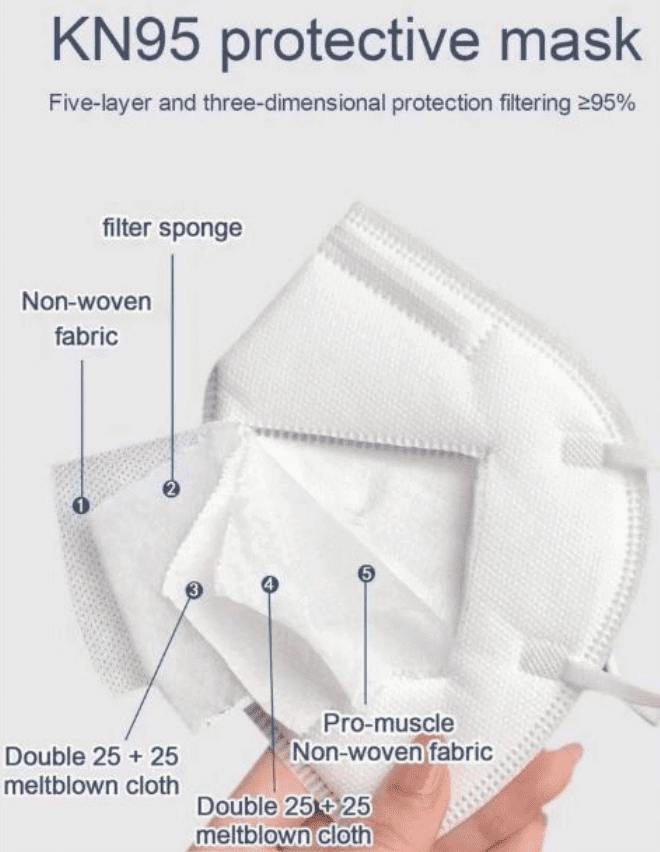 ---
KN95 Protective Mask Features
KN95s offer more protection than medical procedure masks because they filter out both large and small particles when the wearer inhales. KN95 face masks have several features that make them suitable for different situations and environments:
Five layers of material to provide high filtration efficiency and durability
Comfortable ear loops make them easy to put on and take off
One-size-fits-all with adjustable metal nose clip
Breathable soft inner layer
A KN95 mask protects the wearer better than reusable cloth masks and other disposable masks. In addition to disease control, this personal protective equipment is also critical for occupational safety.
Who Can Use A KN95 Mask?
KN95 protective masks can be used by anyone who wants to reduce their exposure to harmful airborne particles. They provide solid respiratory protection for:
First responders
Healthcare workers
Construction workers
Immunocompromised people
People suffering from allergies or asthma
People who live or work in areas with poor air quality (such as near wildfires, factories, or busy roads)
When worn correctly, KN95 protective masks help these individuals prevent the spread of diseases. Place an order today to block airborne irritants and protect your health!
KN95 Masks vs. Disposable Surgical Masks vs. Reusable Cloth Masks
Not all masks are created equal!
KN95 masks are respirators that filter out at least 95% of airborne particles, including bacteria and viruses. They are designed to fit snugly around the face and create a seal that prevents air leakage.
Disposable surgical masks are loose-fitting masks that cover the nose and mouth. They are intended to protect the wearer from large droplets, splashes, or sprays of bodily fluids. They also prevent the spread of respiratory secretions to others. However, disposable surgical masks are not designed to filter out small particles and they do not provide a tight seal around the face.
Reusable cloth masks vary in their effectiveness depending on the type of fabric, number of layers, fit, and frequency of washing.
According to a study by Duke University, KN95 masks provide the highest level of protection among the three types of masks.
Order KN95 Masks from U.S. Smoke & Fire Today
U.S. Smoke & Fire delivers safe solutions for commercial building architects, contractors, and fire protection engineers. Commercial applications include schools, offices, hospitals, hotels, museums, retail, restaurants, mixed-use, high-density residential, public facilities, transportation, mission-critical facilities, and private and public sector clients.
Contact us now to order KN95 masks and keep your team safe.
Specifications:
| | |
| --- | --- |
| Product Name | KN95 Protective Mask |
| Size | Universal -One Size fits Most |
| Color | White |
| Material | Non-woven Fabric |
| Standard | GB2626-2006 KN95 |
| Protection Class | KN95 |
| Filtering Rate | ≥95% (0.075μm particles) |
| Aerosol Type | Non-Oil NaCI |
| Certification | FDA /CE |
---
Opens with:

Adobe Acrobat