U.S. Smoke & Fire ›Fire Protective Smoke Curtains ›>SD240GS 2 Hr Fire Protective Smoke Curtain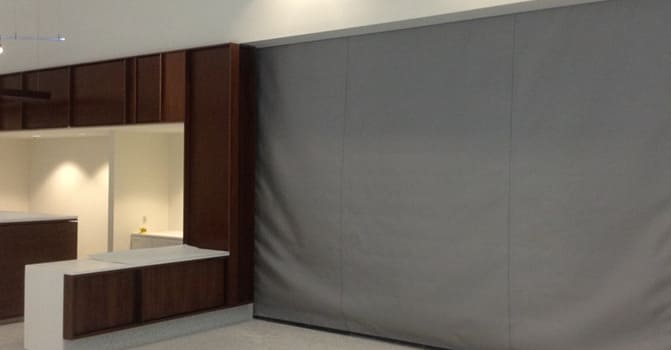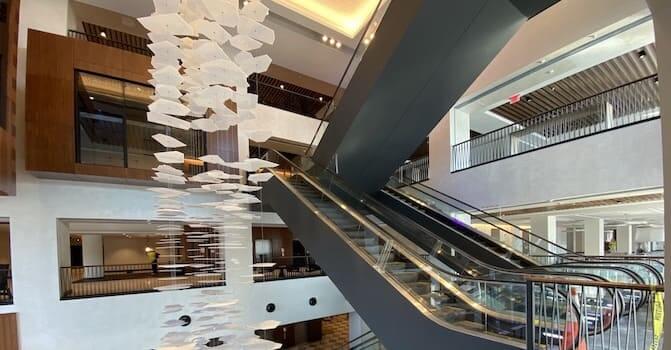 The U.S. Smoke & Fire – SD240GS 2 Hr Fire Protective Smoke Curtain is a 2-hour rated UL Listed, Labeled, and Recognized GRAVITY FAIL SAFE deployable fire protective smoke curtain system composed of a glass-fiber fabric in a Panama weave, rolled on a round steel tube in a fire-rated assembly. The curtain remains retracted above the finished ceiling by a low voltage system until activated by a fire alarm system, smoke alarm, or fusible link, at which point it descends at 6 in/sec. and creates a smoke and fire barrier with quick deployment.
With a max span of up to 146 feet and a drop height of 45 feet, the SD240GS 2 hour fire protective smoke curtain features single or multi-roller assembly options with a 24 V motor control circuit housed within, as well as an easy-access grab strap for manual egress. This opaque gray fire protective smoke curtain is unobtrusive once installed, making it an aesthetically appealing fire protection option.
Contact us now to discuss flexible solutions for fire protection at your location.
Contact Us Now for Fire Protective Smoke Curtains & Other Fire Protection Solutions
With locations in California, Texas, Florida, Virginia, and Massachusetts, U.S. Smoke & Fire is your trusted supplier of smoke and fire curtains.
We furnish and install innovative fire-rated counter shutters and protective smoke curtains for maximum protection from a fire event. We have worked with a variety of industries for base buildings, renovation, and interior construction projects of all types, such as education, offices, hospitals, hotels, museums, retail, restaurants, mixed-use, high-density residential, public facilities, transportation, and mission-critical facilities for private and public sector clients. No matter what your building is used for, fire protection and disaster preparedness are critical investments to make.
For over 20 years, our strong commitment to scientific innovation in the field of smoke and fire safety has helped us become the leading smoke and fire curtain supplier in the United States. We're always on the lookout for the safest advancements in fire protective signaling systems and door systems for smoke control, elevator smoke containment, and more. Our first designs in America were implemented for Ground Zero reconstruction, and our smoke protection systems and other products are now chosen by top architects all around the globe. We also offer 37-point electrical and mechanical inspections included in our annual preventative maintenance plans.
Peace of mind is priceless. Protect your property and your crew with quality fire curtains and smoke containment systems from the experts at U.S. Smoke & Fire.
Read on below for technical specifications, videos, and images of the SD240GS 2 hr rated fire curtain in action, or contact us now to request more information.
Technical Information:
2 hours smoke and fire curtain.
The curtain can have a maximum span up to 146 feet and drop height of 45 feet.
A single or multi- roller assembly with a 0.05 in. thick galvanized steel head box with a minimum 5.9 in. x 5.9 in. with a maximum span up to 60 ft. and drop height of 45 ft.
A 24 V motor control circuit (MCC) housed the steel enclosure and mounted onto the motor end of the head box.
Removable fire rated cover plates incorporated to allow access to curtain rollers.
Optional hand liftable grab strap for manual egress per section 3.1.1. of ICC AC77.
Optional split curtain as a secondary mean of manual egress per section 3.1.2. of ICC AC77.
Egress switches on both side of curtain per ANSI section 3.2.5 of AC 77.
UL864, UL10D, UL1784 code compliant.
Product Downloads:
SEE THE SMOKE CURTAIN IN ACTION:
VIEW IMAGES OF THE SMOKE CURTAIN IN ACTION:
View Additional Products Below: