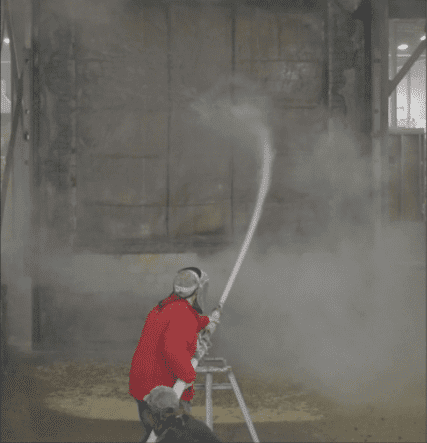 U.S. Smoke & Fire Hose Stream 120® Steel-tex Fire Shutter (SFS) is an opening protective in a 1 or 2-hour fire wall for up to 25% opening limit of a fire wall. The fire shutter meets the requirements of UL 10B and ASTM E2226 hose stream for 2 hour fire wall in compliance with NFPA 252, IBC 716.5.2 other type of assemblies, which requires the fire shutter to meet the integrity and hose stream test.
The head-box is mounted utilizing threaded rods and unistruts similar to fire protective smoke curtains. For power, 120V to motor side of the head-box. The Steel-Tex Fire Shutter (SFS) will release when receiving a signal from fire alarm system (FAS). Push to exit buttons are installed for egress.
If a movable fire wall is required per an ASTM E119 (UL 263) listed, labeled and classified assembly, then the Dual Hose Stream 120® should be specified. This system is tested for fire integrity, hose stream and temperature rise of 250F over ambiant on unexposed side.
Technical Information:
View Guardian Fire Testing Laboratories Listing by clicking here.
Product Downloads For HOSE STREAM 120:
PRODUCT DOWNLOADS FOR HOSE STREAM 120 INSTALLED BACK TO BACK FOR 90 MINUTES EACH (3 HOURS BY HARMATHY PRINCIPLE)