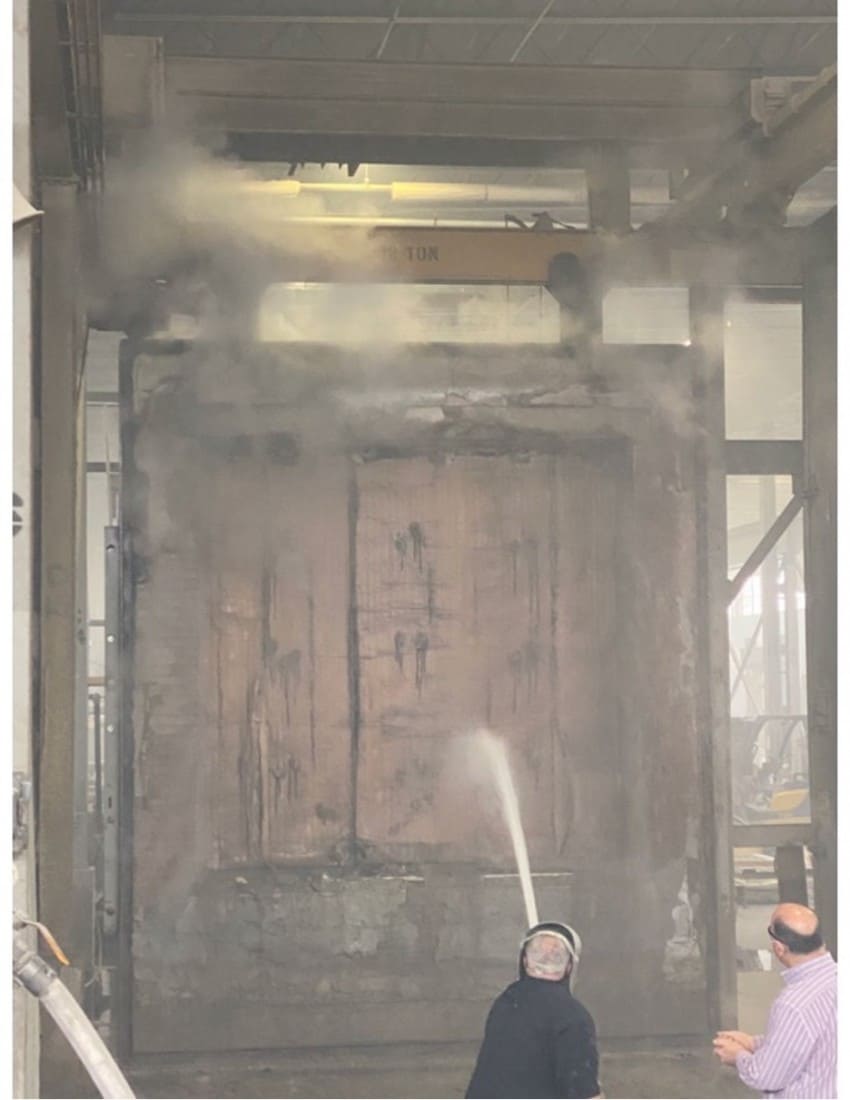 *There is no need for a fastener at the opening of the Hose Stream 120 First Responder door. The sewing technology and heavy weight of the patented textile layers keep the first responder door closed in a fire. Opening force is less than 5 pounds, the threshold is less than 19 mm, the door opens 6' 8" clear opening per IBC 1008
This "First Responder Door" allows an occupant to push it open from the egress side without grasping, pinching, or twisting to pass through; and pull a grab strap on the non-egress side. The First Responder Door is deemed to be equivalent to a swing door based on the following:
There is a side hinge at the bottom bar that allows for swinging of the fabric and a hinge at the top that creates the back force to swing back.

The door swings open 36 inches for the whole height of the doorway.

The bottom bar swings away and leaves a metal threshold approximately 3/8-inchin height which is beveled with a slope not greater than 50 percent.
U.S. Smoke & Fire Hose Stream 120 FIRST RESPONDER Steel-Tex Fire Shutter (SFS) is an opening protective that meets the requirement for a 90- minute fire protection rating and therefore can be used in a two-hour fire rated wall or fire barrier assembly.
Please see below IBC TABLE OPENING FIRE PROTECTION ASSEMBLIES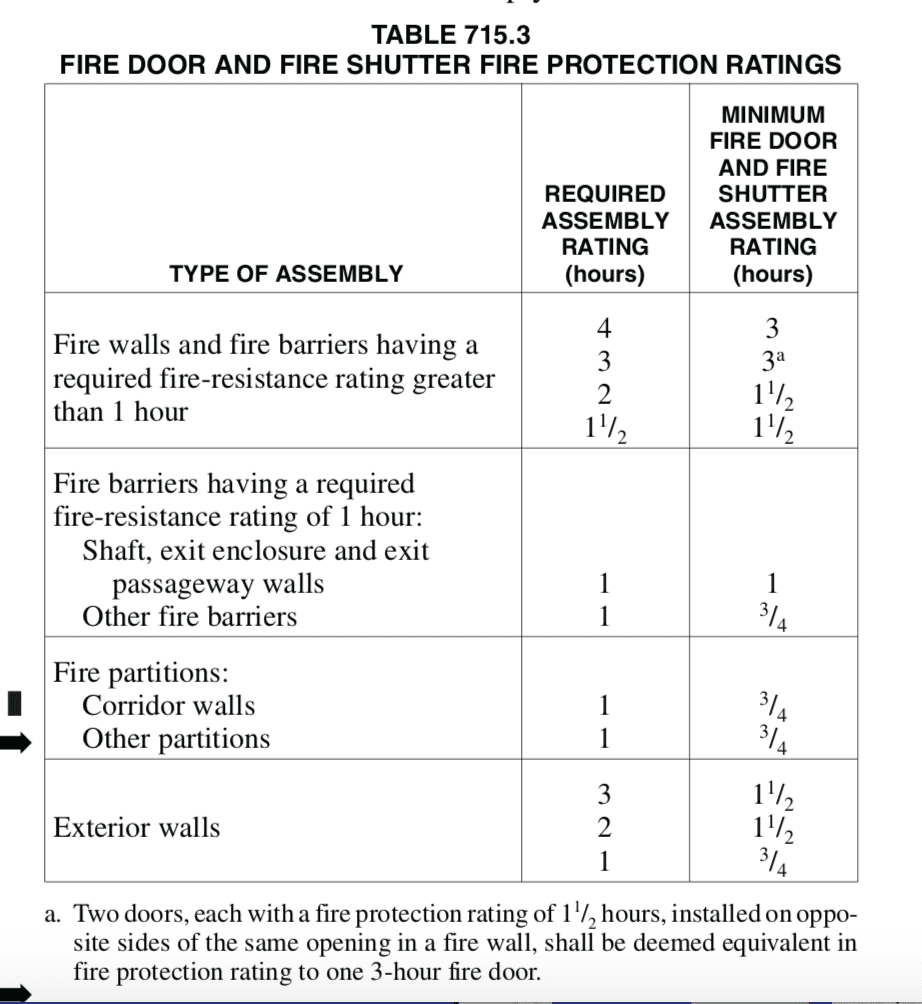 The U.S. Smoke & Fire Hose Stream 120 First Responder shutter is tested to UL 10B and has a minimum of 1 1/2-hour fire protection rating to be sufficient for an opening protective in a 2- hour fire barrier enclosing wall per IBC Table. A hose stream test (ASTM E2226) is conducted as part of the fire endurance testing and the shutter shall have passed this test.
The head-box is mounted utilizing threaded rods and unistruts. For power, 120V to motor side of the head-box. The Steel-Tex Fire Shutter (SFS) will release when receiving a signal from fire alarm system (FAS). Push to exit buttons are installed for egress. Leading edge safety sensor option. BMS relay option. Beam Sensor option.
HOSE STREAM 120 FIRST RESPONDER Installed Back-to-Back
Please note that two systems each with a fire protection rating of 1 1/2 hour, installed on opposing sides of the same opening in a fire wall, shall be deemed equivalent in fire protection rating to one 3-hour system per IBC table a.- Harmathy's Principle.
Each system will be spaced apart by 36 inches with an integral first responder door in a back-to-back orientation.
Product Downloads For HOSE STREAM 120 First Responder:
---